Chicken in sauce with mushrooms and bacon Recipe
Today for dinner I cooked a delicious dish. Firstly, it is very tasty, and secondly, quickly and easily to prepare. I hasten to share the recipe with you.
Chicken in sauce with mushrooms and bacon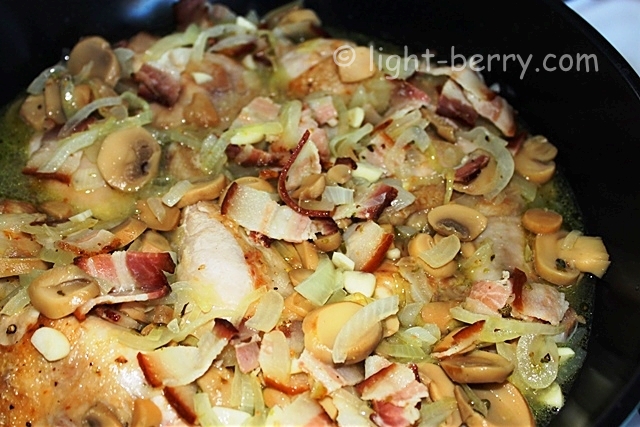 Serve with a garnish of your choice. I served with buckwheat. And of course, a glass of good wine)
Ingredients
chicken thighs
chicken drumsticks
canned mushrooms
bacon
onion
garlic
Instructions
Chicken thighs and drumsticks wash, dry with paper towels, salt and pepper.
In a heavy skillet, warm the olive oil and fry the chicken on all sides until golden brown.
Cut mushrooms.
Cut bacon strips into lardons.
Peel and chop Onion.
Peel and crush Garlic with the flat side of a knife and chop finely.
Fried chicken put in another deep pan.
Use the remaining oil you have used to fry chicken for frying bacon, onion and mushrooms. Add salt and pepper.
Add mushrooms, thyme or rosemary, chicken broth, mix and cook until 1/3 of the liquid has evaporated. When the sauce is almost ready, add garlic.
Pour sauce over chicken and cover (if there is not enough liquid, add some more hot broth) and leave on the stove top for 15-20 minutes, then remove the lid and cook for another 5 minutes.
Copyright © 2014-2018 LightBerry