Review: Larenim, Cucumber Eye Makeup Remover, Chamomile Violet. Analyze the ingredients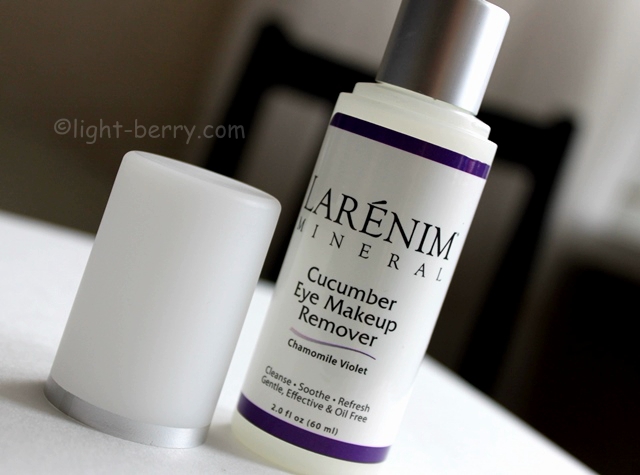 My review will be negative. But it is only my opinion and perhaps you will enjoy it. Maybe it's only my own reaction.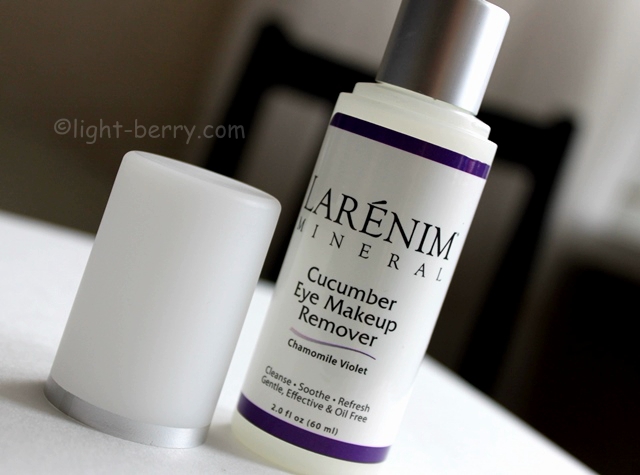 The product has only two advantages, first it is packing. It looks pretty nice and is very convenient for travelling, as it has two caps.
Now I want to tell about its huge disadvantage. I have not met the more horrible eye makeup remover. I don't know for whom it will be suitable, but my insensitive eyes were run down with tears. The product stings eyes, they become red at once and start to hurt and itch, tears flows hardly and it is felt strong burning.
But the product immediately removed the eye makeup. I think that it is the second and the last advantage.
First, I decided to use it to remove makeup from the face and lips and I decided to choose another eye makeup remover. But I was surprised when I took the soaked sponge close to my face (without touching eyes) and tears started flow again, probably because of the strong smell, which wasn't pleasant to my eyes at all.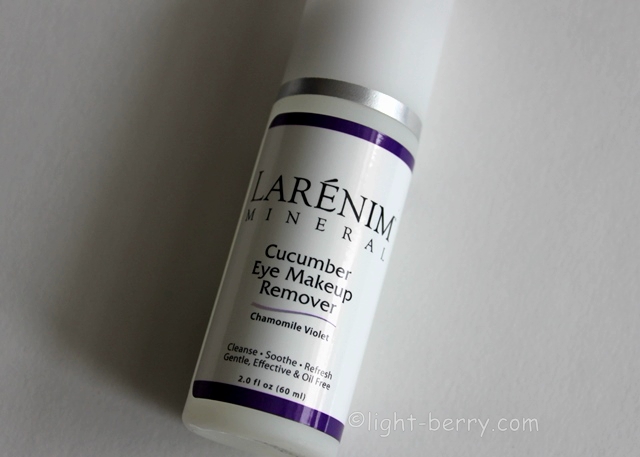 Kirsten Corcoran, creator Larénim, founded the company in 2004 year. After searching for a really healthy and nice cosmetic, she found out that none satisfy the requirements. 
Corcoran developed the range of products, which not only look nice, but make the skin better every day.
The company is seems to be promising, but unfortunately, I had so bad experience with Larenim, Cucumber Eye Makeup Remover, Chamomile Violet.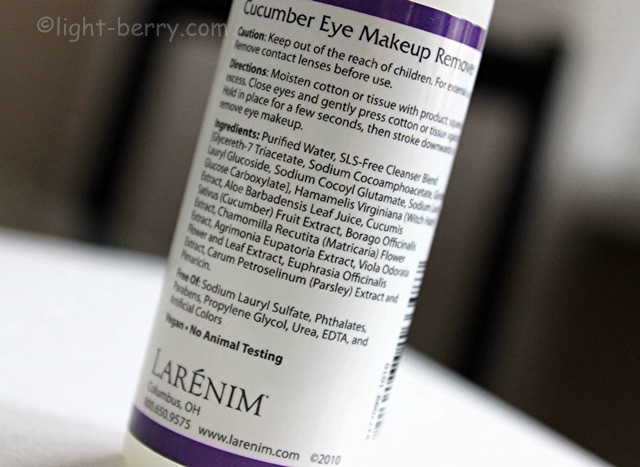 Now, let's consider its ingredients, probably they are the reason of such reaction.
Purified water
SLS-free cleanser blend
   (Glycereth-7 triacetate – Emollient
   Sodium cocoamphoacetate – Gentle cleansing agent derived from coconut fatty acids
   Glycerin – Glycerin is a skin-identical and skin-repairing ingredient, meaning it is a substance found naturally in skin. In that respect it is one of the many substances in skin that help maintain the outer barrier and prevent dryness or scaling
   Lauryl glucoside – Surfactants are used in most forms of cleansers and many are considered gentle and effective for most skin types
   Sodium cocoyl glutamate – Cleansing agent derived from coconut oil. This ingredient is also used to help soften (remove excess minerals from) hard water
   Sodium lauryl glucose carboxylate – A gentle cleansing agent that may be derived from coconut or made synthetically)
Hamamelis virginiana (witch hazel) extract – Antioxidant
Aloe barbadensis leaf juice – Aloe serves as a water-binding agent for skin due to its polysaccharide (complex carbohydrate) and sterol content
Cucumis sativus (cucumber) fruit extract – Claims of cucumber having anti-inflammatory or soothing properties are anecdotal, as there is no research to support this contention
Borago officinalis extract – Emollient, Antioxidant
Chamomile recutita (matricaria) flower extract – It has anti-inflammatory, healing, cleansing and antiallergic effects
Agrimonia eupatoria extract – Antioxidant
Viola odorata flower and leaf extract – Antioxidant
Euphrasia officinalis extract – Astringent properties. It counteracts inflammation
Carum petroselinum (parsley) extract – It counteracts inflammation
Pimaricin – Preservative
Really good ingredients, but confusing as to what has caused such a reaction from me.
Did you use Larenim cosmetics? If your answer is «yes», tell what is good for you and what is bad.