Review: Xlear Inc (Xclear), Spry, Oral Rinse, Spearmint. Analyze the ingredients
Today let's talk about such a simple but at the same time very important procedure as  mouthwash. Specifically, about Xlear Inc (Xclear), Spry, Oral Rinse, Spearmint.
Oral rinse should be used after cleaning teeth with a brush or a floss. Also after meal, in particular after a dessert. Glycolysis increases pH of the saliva which leads to dental caries emergence.
In the morning during the oral rinsing the bacteria that appeared at night when the reduced amount of saliva gives full swing to different microbes, are washed away.
The evening mouthwash destroys the bacteria slick that appears after meals during the day.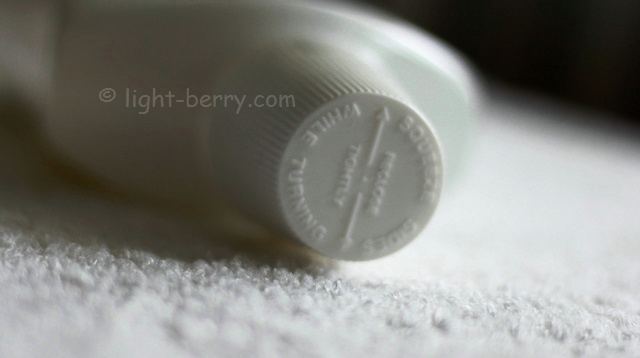 The package is handy, the cap has protection, you should press on the sides and turn the cap.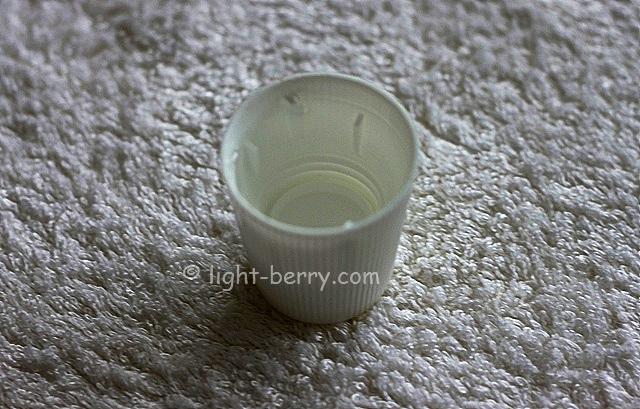 The liquid is completely transparent. You should fill a little less than half cap till the mark and wash mouth for one minute.
It has rich mint flavor, a little bit sweet but pleasant; provides fresh breath perfectly, doesn't bite. The volume is large, lasts for a long time. But to tell the truth I don't use it every day as I simply forget. (I should do my best!)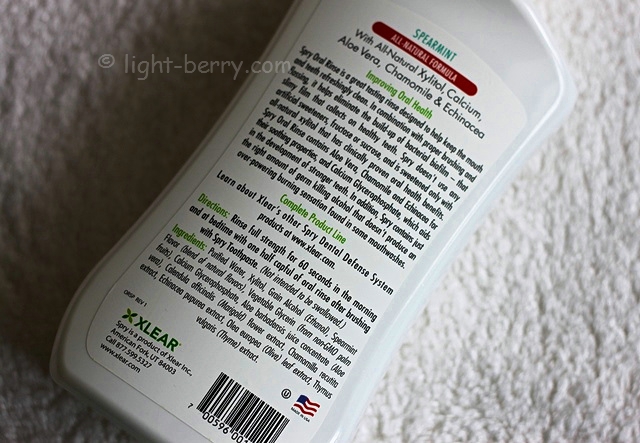 Now let's analyze the ingredients in detail:
Purified water
Xylitol – Natural sugar substitute which contains in vegetables, fruits and other herb, with pleasant flavor. It cleans mouth cavity, teeth surface from food debris and bacteria, contributes to healing of gingivae and enamel. It also improves the pH level in mouth which prevents enamel from destruction.
Grain alcohol (ethanol) – It acts as a great transporter of ingredients that should get into the gingivae and help killing the bacteria. But at the same time alcohol causes dry mouth.
Spearmint flavor (blend of natural extracts)
Vegetable glycerin (from non-GMO palm fruits) – It is developed on the base of plant oils (often coconut or palm oil).
Calcium Glycerophosphate – It has anticariogenic activity.
Aloe barbadensis juice concentrate (Aloe Vera) – It eliminates mouth infections, heals small wounds, refreshes breath.
Calendula officinalis (Marigold) flower extract – It has antimicrobic and antifungal effect.
Chamomilla recutita extract – It has anti-inflammatory, healing, cleansing and antiallergic effects.
Echinacea purpurea extract – It has antiviral and antibacterial actions.
Olea europea (Olive) leaf extract – It works as a great antioxidant. It is a good antibacterial, antiviral, antifungal and antiparasitic product.
Thymus vulgaris (Thyme) extract – It has an antibacterial effect.
You can see that the contents is nearly perfect except for alcohol that can cause dryness. Though my husband uses this oral rinse regularly and he haven't noticed any sort of discomfort.
What do you think about the ingredients? Would you use this product?